Our Favorite Sights, Sounds and Soul-Stirring Experiences
By foot, bike, trolley or boat, San Francisco offers no shortage of captivating attractions, activities and experiences to be savored. Whether you're interested in the performing arts, world-class cuisine, contemporary art or simply want to take in some of the most spectacular views you've ever seen, there's something for everyone is this historic and beloved city by the bay. Here, we share a few of our favorites:
---
Grace Cathedral
Located at 1100 California Street in Nob Hill, historic Grace Cathedral is an imposing French Gothic-style Episcopal cathedral known for its mosaics by Jan Henryk De Rosen, replica of Ghiberti's Gates of Paradise, stained glass windows, and two labyrinths. In March 1964, Martin Luther King, Jr. gave a sermon at Grace Cathedral as part of the festival celebrating its completion.
Financial District
The Financial District of San Francisco is home to the city's largest concentration of corporate headquarters, law firms, insurance companies, real estate firms, banks, savings and loans, and other financial institutions. Marked by a cluster of high-rise towers, all six San Francisco Fortune 500 companies—McKesson, Wells Fargo, PG&E, Gap, Charles Schwab, and Salesforce.com—are located here.
City Hall
San Francisco City Hall was built in the city's Civic Center as a Beaux-Arts monument to the 'City Beautiful' movement that symbolized the American Renaissance of the 1880s to 1917. Designed by principal architect Arthur Brown Jr., the present building replaced an earlier City Hall that was destroyed during the earthquake of 1906. Brown also designed the San Francisco War Memorial Opera House, Veterans Building, Temple Emanuel, Coit Tower and the Federal Office Building at 50 United Nations Plaza.
Local Theaters
San Francisco is home to several performing arts centers, opera houses, ballets and theaters. Some of the most popular sites include: The Curran, the San Francisco War Memorial & Performing Arts Center, The War Memorial Opera House, A.C.T.'s Geary Theatre, The Masonic, Mezzanine and the Louise M. Davies Symphony Hall.
Asian Art Museum of San Francisco
The Asian Art Museum of San Francisco houses one of the most comprehensive Asian art collections in the entire world, with more than 18,000 works of art in its permanent collection dating back 6,000 years. The museum curated the first major exhibition to travel outside China since the end of World War II in 1975, an archaeological exhibition which attracted 800,000 visitors in eight weeks, and an exhibition on wisdom and compassion opened by the Dalai Lama in 1991.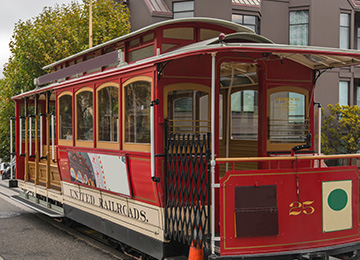 Cable Car Museum
The Cable Car Museum was established in 1974 and is operated as a nonprofit educational facility where admission remains free. On display are various mechanical devices and tools, detailed cable car models, and a large collection of historic photographs. The museum houses three antique cable cars from the 1870s, and the gift shop offers a variety of cable car memorabilia, books, clothing, postcards and even authentic cable car bells.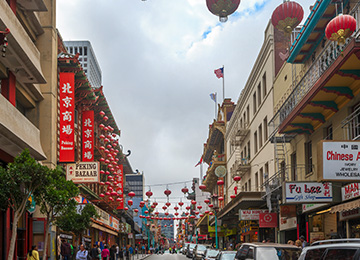 Chinatown
Experience Hong Kong without ever leaving the Bay Area during a day trip to Chinatown, San Francisco. From therapeutic Chinese herbs to traditional artwork, kite shops, tea houses, produce stands, bonsai boutiques and bookstores this pagoda topped shopping district has all the authentic goods and gifts one could ever want.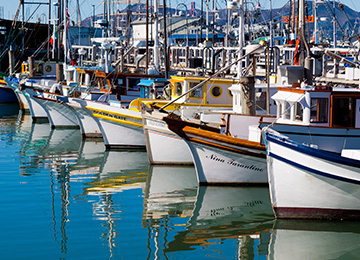 Fisherman's Wharf
Unique among the scenic waterfront attractions of the world, Fisherman's Wharf rests atop the rubble of buildings destroyed in the earthquake and fire of 1906. What remains today is the love of the sea, generations of hardworking fisherman, and the tradition of an ocean-oriented industry that give the Wharf its authenticity amid a constantly changing suburban city.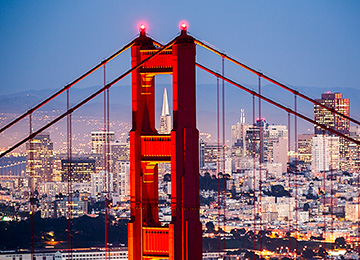 Golden Gate Bridge
The Golden Gate Bridge is the most internationally recognized symbol of San Francisco and has been declared one of the Wonders of the Modern World by the American Society of Civil Engineers. The iconic International Orange colored bridge has tremendous 746-foot towers, sweeping cables, and stylistic Art Deco details. Providing a sensory experience of color, light, and sound, it attracts over 10 million visitors each year.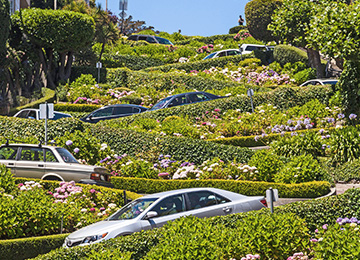 Lombard Street
Referred to as the "the most crooked street in the world", Lombard Street is most famous for its steep one-block section between Hyde and Jones with eight hairpin zigzagged turns. Lombard Street not only makes for a fun ride, but offers a true visual treat with some of San Francisco's most exquisite Victorian homes, manicured lawns and blooming flowers. Photograph the city from the top or get a cool view of the colorful switchback from the bottom.
The Fillmore
From hosting masquerade balls upon opening in 1912, to maintaining an indoor roller rink throughout the 30's and 40's, this legendary venue also had a hand in the musical renaissance that produced some of the most innovative and exciting music ever made. Giving rise to the careers of the Grateful Dead, Jefferson Airplane, Santana, Jimi Hendrix, Otis Redding, Cream, and The Who, The Fillmore remains one of the most popular music venues for modern day musicians to perform.
Union Square
Union Square is the premier retail district of San Francisco, boasting the city's largest collection of specialty shops, luxury boutiques, and department stores. Aside from its world class shopping, a spectacular selection of hotels, art galleries, beauty salons, and theaters can also be found here.